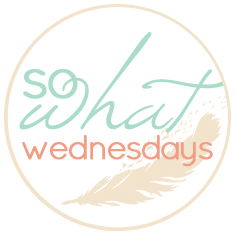 This week I'm saying SO WHAT if:
Keeping my little Diabetes Monster green and happy on the "mySugr" app is the only thing that has helped me to log my blood sugars, ever in my whole life. It's like a Diabetes Giga-Pet. (When I was 10, I may or may not have stayed up all night the first night I had my very own monkey to make sure he had enough bananas and didn't wet the bed (that I constructed from a decorated box) and die.
I refuse to wash dishes. I will clean anything in the house, but I can't bring myself to use sponges that smell like soaking death.
Deciding on paint colors gives me full blown anxiety. I love decorating, but trying to decide between painting the bathroom walls and leaving the vanity white, or painting the walls white and painting the vanity some swanky, Apartment Therapy- worthy color is making me want to revert to thumb sucking.
Candy Crush makes me feel hopeless. How the heck to people get to level 350, when I will never, ever beat level 30?
Yesterday, I was this close to buying $11 Little Hip Squeaks headbands for a baby girl that I do not have...probably a good thing they sold out, as it would have sealed the deal that I will have all boys.
I think I might like Blog Lovin' more than Google Reader.
I got through 80% of Dragonfly in Amber and had to stop. They lost me as soon as they got into 18th Century Highland battle strategy. My mom reminded me that there is power in not finishing a boring book, although I do feel a twinge of guilt. So long, Jamie Frazer. Parting is such sweet sorrow.
What are YOU saying "So What" to this week?



Follow my blog with Bloglovin